About Nathalie Jean
Architect by training, Canadian by birth, Nathalie Jean has lived and worked in Milan for thirty five years.
Since 1998, her jewelry collections have been presented and sold at 10 Corso Como in Milan and Seoul, Nilufar gallery in Milan, Donna Karan's flagship store in New York, Adelaide in Tokyo, Ronce Noire gallery in Paris. It has been part of numerous exhibitions around the world.
She opened a boutique in Milan in 2014, moving to a more private showroom in 2019. Both interiors, elegant and refined treasure chests, were curated in their smallest details by herself, from the custom display systems for her precious collections to the beautiful 20th-century lamps and design pieces collected over the years.
She has designed jewelry collections for many luxury and fashion brands such as Versace, Montblanc and Christofle and teaches Jewelry Design at IED Milan.
Her design pieces and her jewelry are included in the permanent collections of the Musée des Arts Décoratifs in Paris, the Chicago Athenaeum, the Museum of Fine Arts and the Canadian Center for Architecture in Montreal. Her jewelry, product design and interior architecture projects have been featured in numerous architecture, design and fashion books, magazines and newspapers. Before opening her own architecture and design studio in 1993, Nathalie worked at Sottsass Associates in Milan and at Peter Rose Architect in Montreal. Her interior architecture clients include 10 Corso Como, Azzedine Alaia, Alberta Ferretti and Pomellato. Her design pieces have been produced by the likes of Design Gallery Milano, Driade and Rosenthal.
Conversation with Nathalie Jean
Trained in urban architecture, I initially worked on large scale architecture projects in Montreal. Later, at Sottsass Associates in Milan, I learnt interior architecture, which I continued to practice when I opened my own studio in 1994. Following La Ville Nouvelle, a solo show of design pieces at Design Gallery Milano in 2002, I felt the need to work with my hands.
I created Necklaces Limited Edition, a collection of three dimensional paper chains covered in gold leaf. This first jewelry show at 10 Corso Como in Milan was a success. Vogue Paris, Vogue Italia, the Italian TV, everybody wanted those pieces. I then began to work with precious metals and I now dedicate myself almost entirely to jewelry. After many years of working as a designer, on every possible scale, from huge to tiny, I have finally found what I was meant to do. It is as if everything I have done in my life thus far has led me to jewelry: miniature wearable architecture.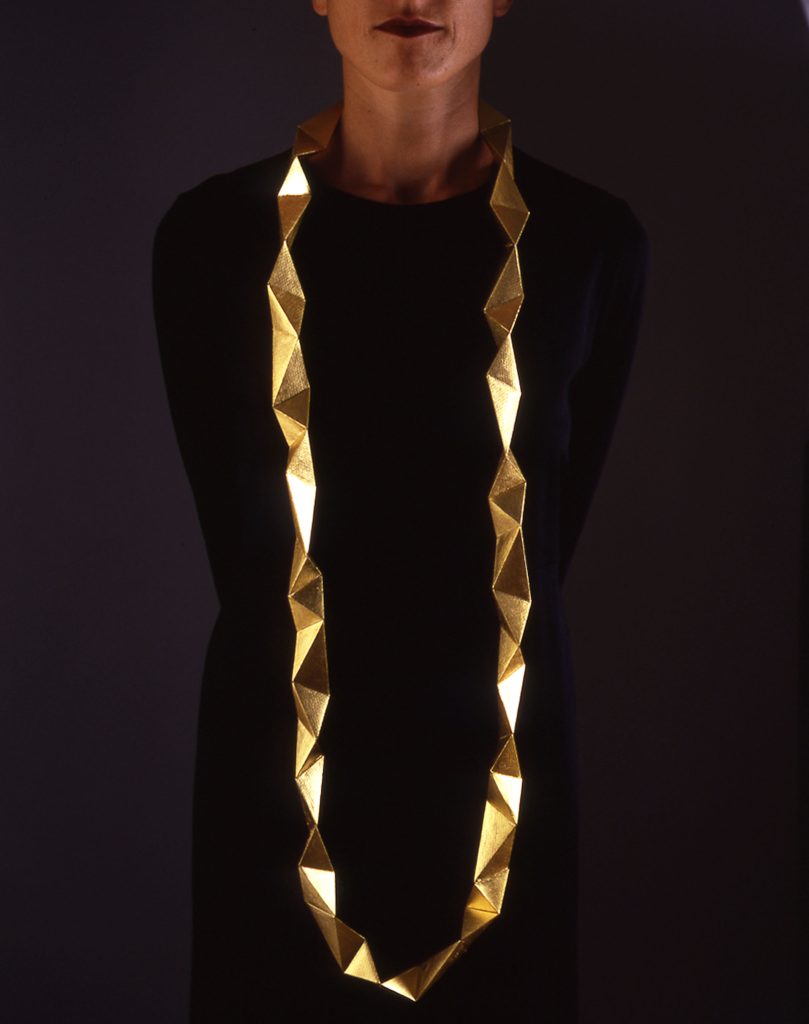 I love every step of the jewelry making process from the idea that slowly emerges in your brain to the finished piece. I very rarely look at jewelry books. Inspiration comes from nature, both macroscopic and microscopic; from my travels or the novels I read; and from the most unexpected scenes or objects. I sketch a lot, eventually moving to the computer to draw the project; I only work only in 2D. We start making prototypes early on, modifying the designs until they are "perfect". I particularly like the shop work: wax sculpting and metal work, melting and pouring it, feeling its heat when it passes through the rolling mills, or the way two pieces of metal magically become one when I solder or weld them. The pieces, all made in our shop, are either "pièce unique", limited edition, or very small productions.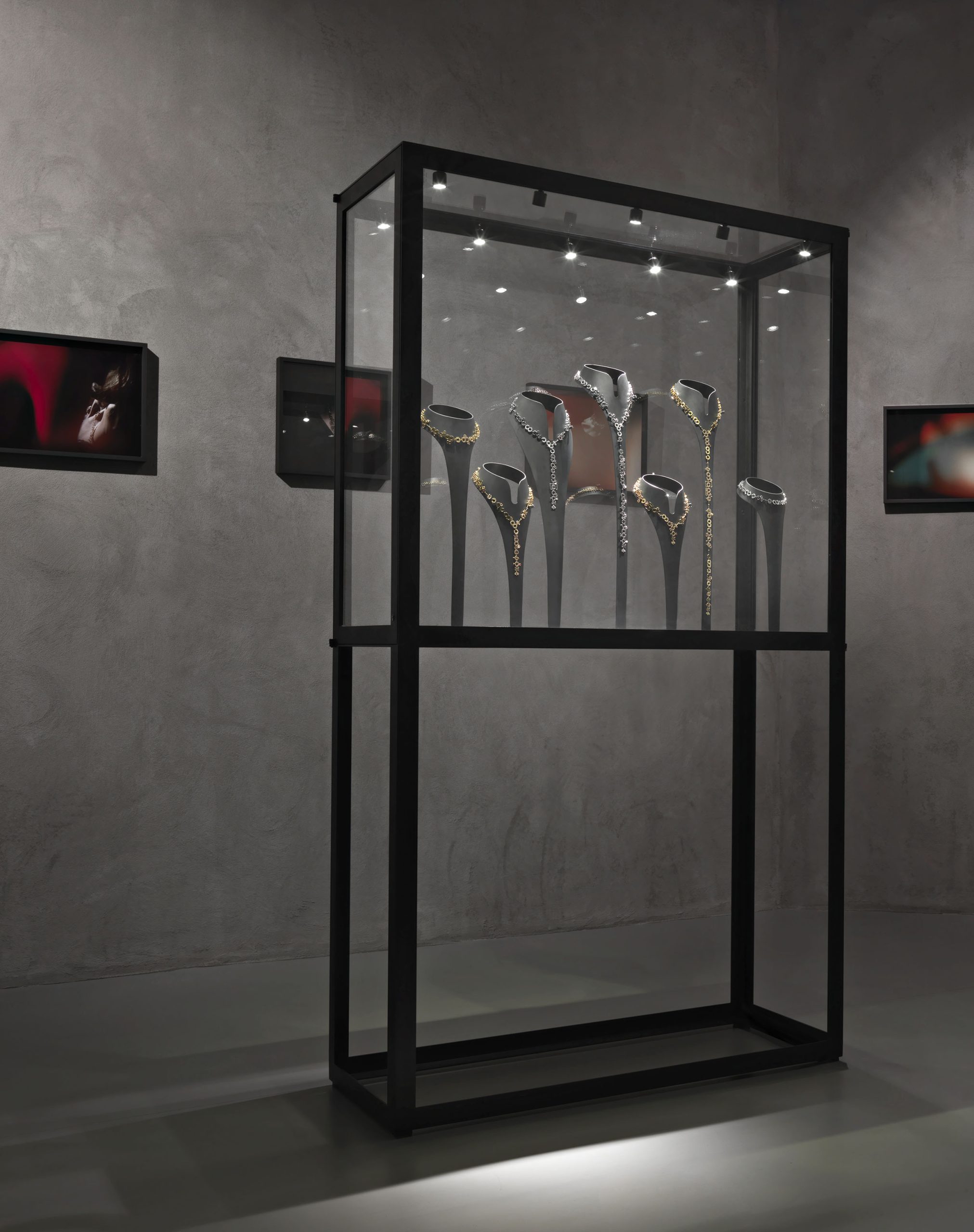 Solo shows and presentations
2009  Suite Birmane – Nilufar Gallery, Milan
2006  Microcosmos – 10 Corso Como, Milan
2005  Mercure – 10 Corso Como, Milan
2005  Contemporary Jewelry – Galerie Arnaud, St-Moritz
2003  Saphir and Informe – Galerie Ronce Noire, Paris
2003  Saphir and Informe – 10 Corso Como, Milan
2002  Saphir – Donna Karan, New York
2002  La Ville Nouvelle – Design Gallery Milano, Milan
1998  Necklaces Limited Edition – 10 Corso Como, Milan
Group shows
2010  Bodyguard, une collection privée de bijoux d'artistes – Passage de Retz, Paris
2010  Gioielli per Milano – La Triennale di Milano
2009  Paper Jewelry – La Triennale di Milano / Triennale Design Museum, Incheon, KR
2008  Gioiello italiano contemporaneo – Palazzo Valmarana Braga, Vicenza / Castello Sforzesco, Milano / Kunstgewerbemuseum, Berlin / Museo Pietro Accorsi, Torino
2006  Il Cosmo Driade: Immagine del Design Italiano – Die Neue Sammlung, Munich
2005  Design jewels – Valadier, Roma
2004  Il Design della Gioia: Jewelry between design and ornament – La Triennale di Milano